COFCOET signed a strategic cooperation agreement with Schneider Electric in the signing ceremony held in Shanghai May. 21st. The two sides will strengthen their cooperation on new electric automatization technology of oil processing, new product development and information system development for grain warehouses logistics.
Group committee member Wan Zaotian attended the ceremony and delivered an important
speech. He pointed out that COFCO is building "from farm to fork" in the whole industrial chain, to provide the clients with safe, nutritions, and delicious quality food. As the industry leader of the domestic food and beverage processing and engineering, COFCOET is making efforts to provide with the whole process of general contracting services. He hopes that Schneider Electric and COFCOET can make good use of the superiorities in technology, resource, operations and business philosophy, and intensify R&D of new technology and products, Enhance the competitiveness of enterprises, to make new contributions to promote the development and innovation of COFCO and China's food and beverage industry.
The chairman of COFCOET Li Jian, General manager Yao Zhuan, Global Senior vice president of Schneider Electric and related personnel, totally 40 people attended the ceremony.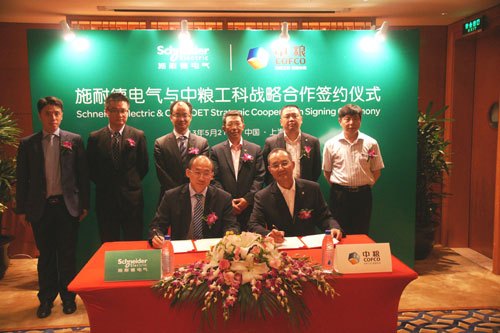 [Close]
[Print]